THYROID DYSFUNCTION AND PREGNANCY. ARE THERE ANY UNANSWERED QUESTIONS LEFT
Diana Šimonienė

Aistė Kondrotienė

Birutė Žilaitienė
Keywords:
pregnancy, thyroid dysfunction, hypothyrosis, hyperthyrosis, postnatal thyroiditis, lactation, iodine
Abstract
A normal thyroid gland function is crucial for the course of pregnancy, mother's health and intellectual foetal development. Every year there is growing evidence of what thyroid function should be like in normal pregnancy, how to cure it, or how to refrain from treating thyroid disease during pregnancy. In this article we discuss the most common situations: indications for investigating thyroid gland function in pregnant women, established tactics of treatment of thyroid dysfunction in early pregnancy, treatment of Graves' disease,
hypothyroidism in pregnancy, treatment of thyroid diseases during lactation, iodine supplementation, and postpartum thyroiditis.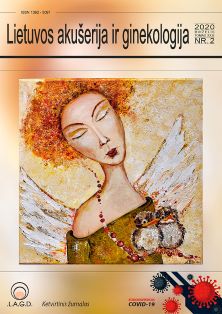 Section
Continuous education