ANTHROPOMETRIC CHARACTERISTICS OF PREGNANT WOMEN AND ASSOCIATION WITH MATERNAL AND INFANT OUTCOMES
Miglė Černiauskaitė

Diana Ramašauskaitė

Gražina Stanislava Drąsutienė
Keywords:
anthropometric data, body mass index, gestational weight gain, adverse maternal outcomes
Abstract
Aim.To evaluate anthropometric data of pregnant women its changes and association with maternal and infant outcomes. Methods. 429 women, who delivered a baby, filled the
questionnaire about their and child's anthropometric data, conditions related to pregnancy and childbirth. Women were divided into 4 groups according to BMI and into 3 groups according to gestational weight gain. The incidence of adverse maternal and infant outcomes in groups was studied. Results were processed using Microsoft Excel and SPSS programs. Results. The median age of women was 31.8 years (primigravida – 30 years), height – 168 cm, weight – 67.4 kg, BMI – 23.9 kg/m2. Overall, any adverse outcome occurred in 61.3%. Among women categorized as overweight or obese any adverse outcome occurred statistically significant more often than among underweight or normal BMI women as well as in the group of women with high gestational weight gain compared to the group of optimal gestational weight gain. Conclusions. Maternal BMI is increasing. Higher BMI and high or low gestational weight gain is associated with increased risk of adverse maternal and infant outcomes.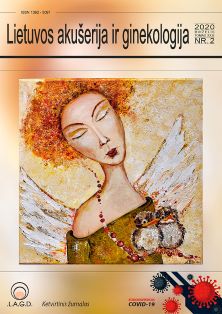 Section
Scientific articles