QUALITATIVE RESEARCH OF HEALTHCARE PRACTICES FOR PREGNANT WOMEN PROVIDED BY KAUNAS CITY AMBULANCE SERVICES
Greta Dubietytė

Nerijus Mikelionis

Rūta Jolanta Nadišauskienė
Keywords:
ambulance specialists, pregnancy, childbirth, confidence, quality of service
Abstract
Summary. Aim. To evaluate the attitude and confidence of an ambulance crew leader towards quality and its improvement in cases related to pregnant women of Kaunas city
ambulance service. Methods. Conducting semi-structured interviews with Kaunas city ambulance service crew leaders. The total of 16 interviews were conducted. Results. 62.5% of
medics feel stress and fear while on their way to a pregnant patient. All crew leaders reported a lack of confidence. 75% of crew leaders evaluated the quality of services provided by them as good or very good. 68.6% of medical staff reports a lack of training and courses, related to pregnancy and childbirth. 25% would like to get Doppler stethoscopes to listen to fetal heartbeat. Conclusions. Most of the crew leaders feel frighten, stressed or lack confidence on heir way to a pregnant patient, thus want more practical courses and additional equipment, such as Doppler stethoscopes. Nonetheless, most respondents evaluate the quality of the services provided by them as good.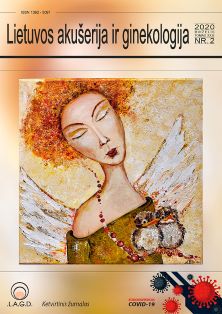 Section
Scientific articles