DIAGNOSIS AND TREATMENT OF COMMUNITY - ACQUIRED PNEUMONIA IN PRIMARY CARE CENTRES IN VILNIUS. DO DOCTORS FOLLOW THE RECOMMENDATIONS?
Ignė Valatkienė

Monika Bareikienė

Laura Šarkambiškytė

Monika Fedaravičiūtė

Kristina Mockienė

Edvardas Danila
Keywords:
communiy-aquired pneumonia, CAP guidelines, antibiotic therapy
Abstract
Aim. The aim of the study was to assess whether family doctors are following the national Pneumonia diagnosis and treatment guidelines when diagnosing and treating community – acquired pneumonia in an outpatient setting. A retrospective analysis of 512 patients' files from three primary care centres was done. Results showed that family doctors do not follow the recommendations for diagnosis and treatment of community acquired pneumonia. The adherence rate for prescribing initial empirical first choice antibiotic treatment was only 23%.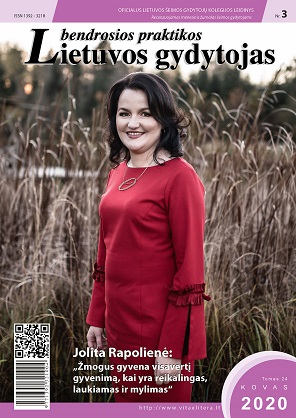 Section
Scientific articles