FREQUENCY OF CONTACT DERMATITIS IN CONSECUTIVE ADULT PATIENTS DURING 2011–2018 PERIOD IN LITHUANIA
Živilė Aukštakojytė

Evelina Bučionytė

Skaidra Valiukevičienė
Keywords:
allergic contact dermatitis, European baseline series, epidemiology, contact allergy, patch test, Lithuania
Abstract
Aim of the study. To examine the prevalence of contact allergy to the European baseline series in the population of adult patients with suspected allergic contact dermatitis in
Lithuania during 2011–2018. Material and the methods. A retrospective study was performed in accordance with the international European Surveillance System on Contact Allergies (ESSCA) project and its standard protocol. Patch tests of the patientstested with the European baseline series during the period of 2011–2018 with suspected allergic contact dermatitis (n=3099), lasting more than 4 weeks, were analyzed. Results. Contact sensitization to at least one of the European baseline series allergens in 2011 was found in 43.2% (95% CI 39.7–50.1) of the patients, and in 2018 – 51% (95% CI 49.1–58.9). Except for 2013 (95% CI 33.5–43.7) – 2014 (95% CI 55–67.8) when a statistically significant peak of contact allergy was observed. During the study period, a trend of more frequent contact sensitization to nickel was observed among women than men. Frequency of sensitization to nickel among women in 2014 was 33.16% (95% CI 28.5–42.6), respectively, among men 7.32% (95% CI 0–11.19). Conclusions. Assessing the changes in contact allergy over time, the frequency of sensitization in 2011–2018 did not increase significantly. During the study period, contact allergy was detected in half of the patients with chronic dermatitis. The largest trend in contact sensitization was observed in 2014, when nickel-sensitized women accounted for more than a third of the patients.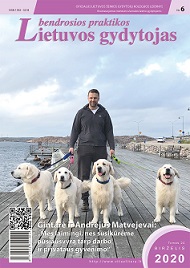 Section
Scientific articles