DIAGNOSTIC OF INTERMEDIATE CORONARY ARTERY STENOSIS
Eglė Montrimavičienė

Laura Zajančiauskienė

Gintarė Šakalytė
Keywords:
coronary artery, intermediate stenosis, non–invasive diagnostic, invasive diagnostic
Abstract
Atherosclerosis is a slow, progressive disease, which has a long asymptomatic phase of development. Invasive and non-invasive diagnostic methods are used for early diagnosis of
atherosclerotic lesions. Visual estimation of coronary artery alone is not entirely accurate, so functional tests are important in diagnosing ischemic heart disease. In the literature, intermediate coronary artery stenosis is defined as a narrowing of the artery between 30% and 70%. The identification and functional evaluation of these stenosis remains the subject
of discussion in everyday clinical practice. In order to make a right decision on how to further investigate and treat such a patient, it is appropriate to combine visual with functional imaging. In this article, we will review the most commonly performed and available coronary artery and myocardial perfusion imaging in clinical practice.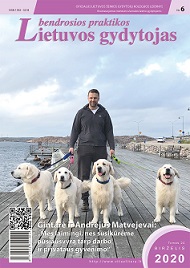 Section
Practitioner studies